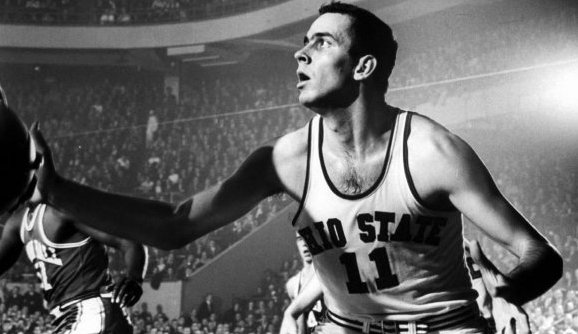 Imagine, if you would, a race. Let's say the 100m dash. Our contestants include the following: Darren Collison, Derrick Rose, Allen Iverson, TJ Ford, Maurice Cheeks, and Dennis Johnson.
Johnson has been brought back from the after-life, and he and Cheeks have completed some sort of time travel in order to compete at the peak of their careers.
The gun sounds, and they're off. Collison blows everyone away. Ford and Rose run neck 'n' neck for second. Iverson finishes fourth and is heard mumbling: "This is too much like PRAC-tice."
Cheeks finishes fifth. DJ brings up the rear. After the race the former Celtic point guard is heard saying: "I don't care what you say. I can run just as fast in my Cons as you can in those nasty track shoes."
We have another event: the 200m. The contestants are getting into the starting blocks: Chris Mullin, Stephen Curry, Chris Douglas-Roberts, OJ Mayo, Hubert Davis, and Johnny Dawkins.
Again, the elders have travelled back in time to their college days. Douglas-Roberts breaks the tape at the finish line. Mayo has a good showing in second. Curry out legs Davis for third. Dawkins pulls in fifth. Mullin plods past the end line.
Our next event is the long jump. For this competition we have James Worthy, Michael Beasley, Kevin Love, Bill Walton, Charles Barkley, and Brook Lopez. The same time travel conditions exist. Beasley and Love duke it out for first with the K-State forward getting the best of it.
Worthy has a good showing and finishes ahead of the Lopez twin. After stepping over the line twice Walton trips and does a face plant in the sand. All the while he amazingly never stops talking. Barkley, seeing Walton's misfortune, decides it would be best if avoids a foot foul by taking off two feet behind the line. He moves enough sand to create his own beach but still finishes fifth.
The last event is the discus. George Lynch, Brandon Rush, Dante Green, Danny Green, Richard Hamilton, and David Wingate are entered into this competition. Danny Green draws ooohs and ahhhs from everyone in attendance.
The Tar Heel track and field coach is in attendance, and Roy Williams effectually prevents him from offering the forward a scholarship. Rush gives it his best, but is no match for Green. Dante Green finishes third. Lynch and Wingate battle it out for fourth with Lynch earning the spot. Hamilton struggles to acquire any technique.
Now that the fictitious competition is over take a look at this gathering of players. If you could choose from the group above to build a basketball team (yes—consider the veterans coming out of college or early in their professional careers), who would you take?
Is this an unfair proposition? Players like Johnson, Walton, Hamilton, Mullin, etc. have all had a better opportunity to prove themselves on the basketball court. At the same time Beasley, Mayo, Love, and others have benefited from the proliferation of media coverage that can boost the public's perception of a player's abilities.
Having never quite mastered the ability to stack a deck, playing out this hand seems a little easy. Before you dismiss this proposition, notice that many greats have been left out. It would be very easy to pick a group (MJ, Larry Legend, Magic, Russell, and Kareem—oh ouch) to beat any combination of players above. The players were deliberately chosen to bring into question the topic of athleticism versus basketball savvy.
Without much thought DJ starts at point on my team. Mullin joins him as shooting guard. Hamilton, Walton, and Barkley round out my starting five. That gives me Mo Cheeks, Dawkins, Worthy, Lynch, and Georgetown's Wingate coming off the bench. As I write this lineup, I realize there is a dwindling list of people who would agree with me. That's okay—it leads to my point: basketball seems to be fighting itself to decide what is better—athleticism or basketball ability.
Granted one needs athletic ability to play the game or any game for that matter. It is the apparent imbalance that can create a problem—when too much athleticism is associated with being a good player. Stephen Curry is a basketball player with athletic gifts. Brandon Rush is an athlete who has chosen to play basketball. That does not make Rush a bad person.
Not too long ago I suggested basketball should do away with the dunk. Perhaps that was a little strong, but my point was that the dunk or those who execute a dunk grab an elevated status in the eyes of onlookers. The dunk has entertainment value. Count me among those who include basketball as a sport not entertainment.
Last weekend's Final Four brought together arguably the four most athletic teams in the country. Kansas's ability to play basketball earned the Jayhawks the title.
A few images stick in my craw from those three games: early in the first half the Tar Heels, as they have so many times this year, got a defensive rebound and a quick outlet to half-court.
Wayne Ellington snared the pass and looked up to find three Jayhawks waiting in the paint for him. Ellington and his Tar Heel teammates who have grown accustomed to that situation leading to an open-court dunk or a one-on-one situation found the going much tougher against Kansas.
Another image came late in the title with Memphis in the lead. Derrick Rose brought the ball up and the Tigers ran a low one-four set. Rose was to beat his defender, Mario Chalmers, off the dribble and either score or dish.
With about five minutes remaining Rose's legs showed the wear and tear of the entire season, and Memphis lacked the ability to generate/ manufacture a basket late in the game. Their athleticism had taken them to the finals—and that was beyond the scope of their basketball ability.
Later, his Tigers clinging to a two-point lead, Chris Douglas-Roberts found himself with ball in hand outside the arc and less than twenty ticks remaining in the game. Rather than looking to run clock, Douglas-Roberts put his head down and went to the basket for a dunk. Darrell Arthur chose to foul, and Douglas-Roberts went to the line where he missed both attempts.
Later, in overtime, Memphis finally ran something—a nifty perimeter screen on the ball. Douglas-Roberts, the screener, stepped back and received a pass from Rose for a wide open look. As his shot clanged off the rim, Brandon rush released on the opposite side of the floor.
He caught the outlet pass with no one within ten feet, missed the layup, but had enough time to gather himself, grab the rebound, and finish the play. Mind you this all happened in overtime of the national finals.
Kansas had just enough athletic ability to take UNC and Memphis out of their games, and just enough basketball savvy to win a title.
Here's the thing that's got me scratching my head: why didn't UNC or Memphis choose to take a page from the play book used by Davidson?
The Tar Heels trailed Kansas by what seemed like a hundred points. They managed to scratch and claw back to four before losing by 84-66. Kansas topped Davidson 59-57.
For all their athleticism, all their banners, all their blue chip recruits, Carolina could not come close to giving Kansas as good a game as Davidson.
The Wildcats with their muckers and grinders were forced to play basketball – to set screens, put together more than two passes on a possession, play defense, and they came within one missed shot of taking down Kansas.
When UNC couldn't get their full-court game going, and the Jayhawks neutralized 'Psycho-T' with a crafty double-team scheme, the Tar Heels looked befuddled—like for the first time they were forced to play basketball, and they could not figure out a way.
In the end UNC scored on 30 of their 67 possessions or at a rate of 45 percent. Davidson came away with points on 25 of 59 possessions or 42 percent. What's misleading here is that UNC took advantage of a Kansas team that lost focus with a 30-point lead. Also the Heels grabbed some points during mop-up time. The Wildcats did not have the same luxury.
Keeping track of possessions and those scored on (offensive efficiency) is not very glamorous—in fact it can be rather tedious. It can also expose some ills. Too many times this season and in recent seasons basketball games have been turned into track meets. Not because either of the teams are particularly adept at such a style but rather as a means to increase possessions to make up for inability to score on a regular basis.
Taking the offensive efficiency a step further we can look back at the 1991 national semi-final between Duke and UNLV. Sure, I am a fan of the Blue Devils. I will not try to hide it. But that game was indicative of the level of play for that time period.
Don't forget that until 1993 the college shot clock was :45. The Blue Devils used that to their advantage against the heavily favored Runnin' Rebels who lived up to their name.
With three future first round picks: Greg Anthony, Larry Johnson, and Stacey Augmon, head coach, Jerry Tarkanian, and his amoeba defense caused havoc for opposing offenses—resulting in a barrage of layups for the Rebels. Not so against the Blue Devils.
Duke ran clock, possessed the ball, ran offense, and pulled off the upset. They didn't run clock for the sake of running clock. They ran clock to work for the open look.
All that being said one would expect the final score of the game to be low—right? To the contrary the final score was 79-77. The total points between the teams (156) was more than any of the final four games this year and actually of the last three years only the final between Florida and Ohio State involved more scoring.
To add to this, part of Duke's strategy that night was to send only two players to the offensive glass in an effort to slow the Runnin' Rebels in transition. Essentially Duke forfeited any second chance opportunities. Duke had to execute to perfection to win that game.
I am not suggesting that more scoring indicates better basketball. I am suggesting that our game of basketball is putting too much influence on athleticism and not enough on basketball skills.
The Duke-UNLV example is just one. I am sure if we spent time comparing decades we could find more.
College kids are bigger, stronger, and faster than ever before. That does not make them better basketball players. Instead of spending so much time in the weight room looking good for the ladies in attendance, these kids need more time in the gym becoming better basketball players.
I appreciate and admire athleticism. I respect basketball playing ability.